TSK carbon is a place where every car enthusiast can buy high-quality parts for tuning electric cars. This material has earned trust and popularity among car enthusiasts, and for good reason! Carbon has a lot of advantages, including:
high strength;
stiffness;
low weight (even though carbon has a higher strength than steel);
beautiful rich appearance.
Today tuning Tesla is incredibly popular among owners of electric cars, but carbon fiber is in active demand for tuning. The bumper, door handles, mirror housings, and body kits are all made of carbon. And the most common detail that is replaced by carbon fiber when upgrading a car is the hood. This material is also used for tuning the interior of the vehicle.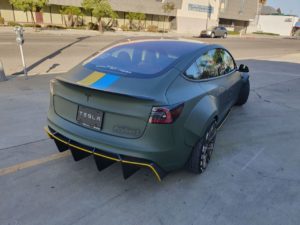 The key to the popularity of carbon fiber is not only its enviable qualities but also in sports cars because they originally used this material. Nowadays the owners of even the most solid expensive cars give preference to it.
TSK carbon: a history of tuning
Many modern people mistakenly believe that tuning appeared literally in the last 20-30 years. In fact, it has existed for the whole century! People began to improve their cars at the beginning of the twentieth century, and the reason for this was the popularity of auto racing.
Further – more. In the fifties, vehicle production picked up a lot of momentum. People were buying more and more cars and were increasingly willing to make their vehicles different from others. So, gradually, small tuning shops turned into large ateliers with many customers.
Today, a huge number of people want to have their own Uniq tesla, so they entrust their electric cars into the hands of tuning masters. The popularity of tuning holds up from year to year, and it is systematically improved: new car upgrade technologies and modern materials appear.
Types of Tesla tuning
Car enthusiasts resort to tuning, pursuing two main goals: the external attractiveness of the vehicle and driving comfort. Thus, there are two types of tuning: internal and external. About them in more detail.
External tuning is everything that concerns the design of the car exterior (various drawings on the hood and doors, window tinting, cool body kits, beautiful rims, original handles, all kinds of headlight covers, up to the eyelashes, and much more).
An interior upgrade is anything that is done inside the cabin. Such measures are carried out rather for the driver's convenience. However, there is a visual component here, too. For example, tinting. This change brings not only comfort (because it prevents unnecessary light inside the car), but also an aesthetic pleasure for the driver and passengers of the car.
Interior upgrades also include a variety of mats, a unique steering wheel with additional buttons, seat covers, beautiful seat belts, and more.
TSK carbon
The key to good tuning is several factors:
professional specialists;
the latest technology;
high-quality material.
TSK carbon is the perfect place to get great parts for super-tuning your Tesla. Everything is made by real professionals " to the last detail ". Buying parts here means providing yourself and your car with quality tuning for years to come.
Today there are a lot of options for both external and internal Tesla tuning, and the number of drivers who want to make their cars original is increasing daily.